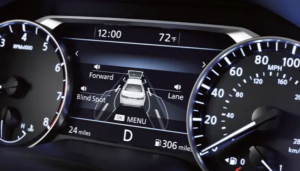 If you are on the hunt for a safe and smart vehicle, then you should take a close look at the New 2022 Nissan Altima. One of the standout features of the newest Nissan Altima is its VC-Turbo engine. Unlike other engines, the VC-Turbo engine adapts continuously to the different types of driving situations that you encounter. It will raise or lower its pistons' reach depending on the specific situation. That makes it very easy to control.
The Altima is loaded with other features that enable it to adapt to specific conditions on the fly. For instance, the Active Ride Control feature will adjust your engine torque based on the situation so you can maneuver the terrain more effectively. The Hill Start Assist feature is useful for keeping you in position as you make your way uphill and Intelligent Trace Control is helpful for navigating sharp curves and corners. Driving can be difficult especially for those who don't have a ton of experience. Make that part of your child's daily routine easier by purchasing the 2022 Nissan Altima at your local dealership.
Efficient Operator
Efficiency is yet another standout feature of the New 2022 Nissan Altima. However, the type of fuel economy this vehicle gets depends in large part on your choice of engine. If you've decided to use the VC-Turbo engine inside the Altima, then the fuel economy you'll get will be around 25 miles per gallon for city roads and 34 miles per gallon for h
ighways. Those are solid numbers for a vehicle as feature-loaded as the 2022 Nissan Altima. Even so, it may leave you wanting more if you place a great amount of importance on how your cars operate. In that case, you can opt to put a four-cylinder engine in your Altima. By doing so, you will significantly improve the fuel efficiency ratings of your new vehicle. On city roads, Altimas that use the four-cylinder engine get up to 28 miles per gallon. Move to the highway, and your new car's fuel efficiency rating bumps up to 39 miles per gallon. That kind of fuel economy is always a big plus if you're looking for a new car. No one likes spending a fortune on fuel so getting a new vehicle that works efficiently on the road would be ideal.
You'll also be glad to know that there is no significant drop-off in performance even if you decide to choose the less powerful engine for your Altima. It remains a stellar performer in any situation and its fuel efficiency remains top-notch.
Stay Comfortable in the Smartly Designed Cabin
The cabin of the 2022 Nissan Altima is designed mainly for comfort and convenience. That much is evident as soon as you start using it. Let's run down the list of comfort and convenience-focused features found inside the Nissan Altima using the bullet points below.
Heated Seats - The 2022 Nissan Altima is outfitted with heated seats so you don't have to battle the early morning chill while driving to work. You also won't have to wait long for those seats to get comfortable because they heat up quickly.
Heated Steering Wheel - The steering wheel of the Nissan Altima can also be heated. Activate the heating option for your steering wheel so you can make your fall and winter drives more comfortable.
Intelligent Climate Control - You can set the temperature for your Nissan Altima before you even set foot inside your vehicle. Use the included remote control to adjust the temperature of your vehicle and get comfortable right from the moment you sit in the driver's seat.
Memory System - Drivers may have different preferences in terms of how they want the seats or mirrors inside the car to be arranged. If you have the 2022 Nissan Altima, you can save your preferred settings and quickly activate it if a different driver recently made some changes. You won't have to waste your time getting elements of your car positioned properly again.
The 2022 Nissan Altima is a shining example of what a car is capable of if it prioritizes the needs of its driver and passengers. Discover how well the Altima suits your family by visiting Townsend Nissan today!