2017 Nissan Armada Introduction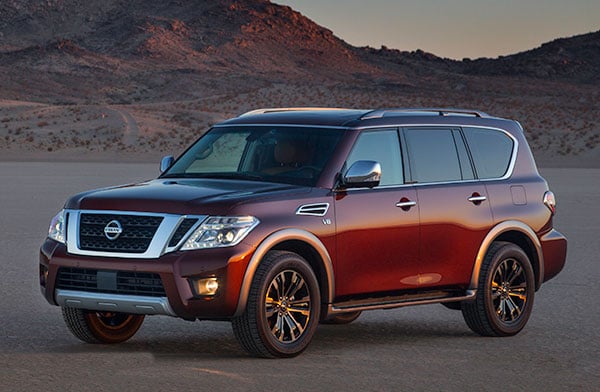 The 2017 Nissan Armada is all-new.
Thanks to King Phillip II of Spain, Armada is a word that's had massive nautical connotations ever since 1588.
However, at Nissan the word is strictly land-based, though the term massive still applies. Armada is a big sport-utility vehicle, with three rows of seats and plenty of V8 power. It dates to 2003, not quite as far back as the Spanish Armada, but a long time in the world of motor vehicles. And this is its first major makeover.
For 2017, the Armada name persists, but it surrounds an all-new vehicle. The engine seems familiar, but the foundations are new, new, that is, to the Armada. The original Nissan Armada rode the same chassis as the Titan full-size pickup. But the 2017 Nissan Armada redesign is based on the Nissan Patrol, a rugged SUV that's been trekking the wilds in other markets since 1951.
We should also add that the transition to Patrol foundations is not without precedent for the greater Nissan North America family. The Infiniti QX80 made the switch five years earlier.
The grille is the most obvious difference between the 2017 Armada and previous models, but the sheet-metal is all-new. The 2017 Armada is slightly longer and wider than before, though it's wheelbase is shorter. The all-new chassis is more rigid than previously.
The new cabin is attractive and soft-touch surfaces abound, and the Armada is quiet underway.
It has nice road manners, striking an appropriate balance between ride quality and handling, by large SUV standards. And it's capable over rugged terrain and primitive roads.
The 2017 Armada accelerates briskly and sounds good. It has quick throttle response and impressive passing power. Its 5.6-liter V8 has been re-engineered for 2017 with Nissan's latest variable-valve technology and delivers dramatically increased horsepower: 390 horsepower and 394 pound-feet of torque. This while continuing to run on Regular gasoline. Fuel economy is an EPA-estimated 13/18 mpg City/Highway. Towing capacity is increased to 8500 pounds.